Welcome to A Collection of Works By Philip S. Brinkman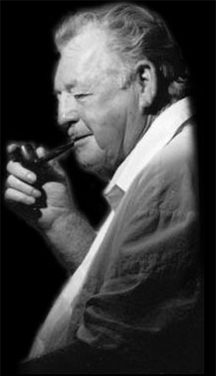 Phil Brinkman had been a commercial artist, for six years before WW II. Brinkman spent much of his time painting murals around Davis-Monthan. Later, when he was with the 834th Squadron of 486 BG, he painted each of the unit's B24s with an image based on one of the signs of the Zodiac.
Meet Phil Brinkman
The Early Years
Phil Brinkman was born in 1916 in St. Louis, Missouri. The Brinkmans were an established family in St. Louis with ventures in land holding, farming, construction, and automobile sales.
Brinkman's father dabbled in art, although he had no formal training. Brinkman attended a local business college after high school but felt a passion for art early on. During his teen years, he used to paint portraits of some of the sharecroppers who worked on his uncle's farm outside St. Louis.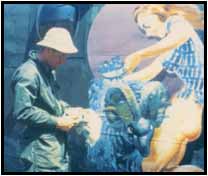 Education and Pre-WWII Work
Brinkman decided to enroll in Washington University School of Fine Arts. Later he joined the American Academy, Chicago, once he reached the stage where he felt that he had learned everything that the Washington University School of Fine Arts had to offer. In Chicago, Brinkman worked with Hyden Sundblum, a commercial illustrator.
From Chicago, driven by a thirst for more training, Brinkman traveled to New York City to attend the Grand Central Academy of Art where he studied with Harvey Dunn. He worked in New York on the staff of Ruth Ruff Ryan agency and then later moved to Benton Bowles agency. Brinkman had come back to St. Louis, his hometown, in the early 1940's. He was working with the Gardner Advertising Agency when he signed up to join the Army Air Corps in 1942.
The WWII Work
In the Air Corps Brinkman, who had joined with his paint box, was assigned to Special Services. His military occupational specialty was designated as Draftsman as there was no category for artist. His early art assignments included lettering the CO's name on the door as well as other base signage.
In 1943, he was stationed at Davis-Monthan Field in Tucson, Arizona. Brinkman did his first mural here in the Service Men's Club. The mural, which covered the walls of a room 36 by 90 feet, depicted the history of flight beginning with the fall of Icarus and covered the early pioneers in aviation and their planes through the modern B-24. Included in the mural were portraits of the aviators and text scrolls, which gave a detailed history of the men and the aircraft. The mural was also used as a teaching aide on the base.
The Making of the Zodiacs
The commander of the 834th Bomb Squadron (Heavy), Winfred "Jip" Howell, saw this mural while Brinkman was stationed at Davis-Monthan. The two worked together to come up with a theme for the groups B-24's, twelve planes needing distinctive markings. The idea for the Fighting Zodiacs was born. Brinkman was transferred to the 486th and was on his way to England soon after.
In 1944, Brinkman was stationed at Army Air Force Station 174, Sudbury, Suffolk, England. Brinkman had been working on the nose art for the planes as well as doing murals on the base. In addition to the Zodiacs, he did other Nose Art pieces. Unfortunately, none of these original panels survived, but there are photographs of many of these paintings documented in Nose Art books.
Post-WWII Work
After the war, Brinkman returned to St. Louis briefly. He decided to put his money together and buy a boat in Florida. He moved to the Tampa area where he worked as an illustrator. Eventually, he traveled with another friend from St. Louis and went south to Palm Beach. He lived on his boat while taking his art portfolio to agencies trying to find work in the commercial field. He ended up doing murals again, and once again, many of these works gave a history of the area. He spent a great deal of time in local library researching his topics.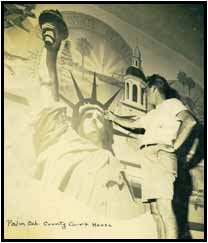 The Later Years
In 1951, Brinkman married Carmen Catlett of Louisville, and they made their home in the Coconut Grove area, together raising 3 children. Brinkman continued to paint murals throughout South Florida and worked closely with decorator Homer Shrewsberry. Brinkman also painted extensively in the Bahamas and the Virgin Islands. His jobs were primarily murals, yet he also was well-known for his portrayal of wildlife and game fish.
Brinkman's first love was watercolor. His Bahamian watercolors were unique, and most often he preferred to work on site when doing his smaller paintings. He did not consider himself a portrait artist, yet many of his finest works were portraits. His paintings and murals can be found throughout the eastern United States.
In his later years, Brinkman came down off the scaffolding and focused on paintings that could be done in his studio. He moved to Englewood, Florida in 1989 and was active in the local art scene on the Gulf Coast. He died in Gainesville, Florida where he lived with his daughter's family in May of 2000.
To find out more about Phil Brinkman and his art, please visit the Contact Us page to get in contact with Phylis Brinkman Craig.